QuakeHOLD! Industrial (QHI) is a strong supporter of community groups that engage in drills and education on how to prepare and ride-out earthquakes. And, it is important to be equipped for other natural disasters. In addition, QHI loves to give back to organizations that are vulnerable during times of disaster through our philanthropic programs.
LISTOS California Emergency Preparedness 3D Video
Helping Texas, Disaster Relief – February 2021
Ready America provides ten year shelf-life Aqua Literz for disaster relief to assist with the effects of the two consecutive ice and snow storms in Texas.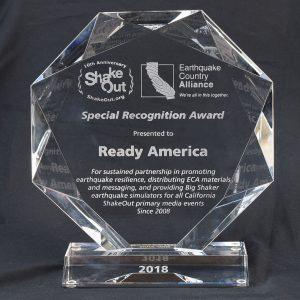 Earthquake Simulator at The Great ShakeOut – 29 mil worldwide
During the 10 Anniversary of the Great California ShakeOut, Ready America was recognized for our participation in the drill since 2008. For the past ten years, Ready America has been a prominent fixture at the Great California ShakeOut along with the Big Shaker, the world's largest earthquake simulator. This special award given to Ready America now lives in our headquarters in Vista, California.
Ready America is proud to sponsor Kaillie Humphries. In February 2021 in Germany Kaillie won the two-person bobsleigh with Teammate LoLo Jones and also claimed a gold with the fastest time and a new track record in the monobob. She is the first woman to win this new Olympic event at the World Cup. Click here to see the winning run.
Kaillie is the first woman to pilot a mixed-gender team in the first international four-man bobsleigh competition to allow women to compete with/against men. A Canadian-born bobsledder who currently represents the United States, Humphries is a two-time Olympic champion in the two-woman (2010, 2014), and is the 2018 Olympic bronze medalist with brakeman Phylicia George. With her victory in 2014, she became the first female bobsledder to defend her Olympic title. Due to her repeat championship, she was named flagbearer for the closing ceremonies at the 2014 Olympic Games together with brakewoman Heather Moyse. Humphries is also the two-time defending overall World Cup champion. To date, she is the most successful Canadian bobsledder in history. In 2019, she switched to representing the United States. Visit Kaillie Humphries on IBSF today!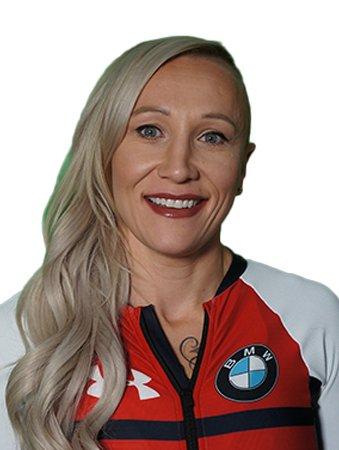 We are proud to support Noah Homes. Noah Homes provides exceptional residential care and choices for adults with developmental disabilities. Noah Homes is recognized as a model of exceptional lifelong care for adults with developmental disabilities thriving within a social community. We stand by their side to help support compassionate care, exceptional standards, and servant leadership. Visit Noah Homes today!
In partnership with the American Red Cross, we trained more than 9,000 residents of the Bay Area on "How to Secure their Space." Each participant received training on how to secure top heavy furniture, wall art, collectibles, electronics and a Free Starter Mitigation Kit. This educational outreach program was generously sponsored by the California Earthquake Authority. Visit the American Red Cross today!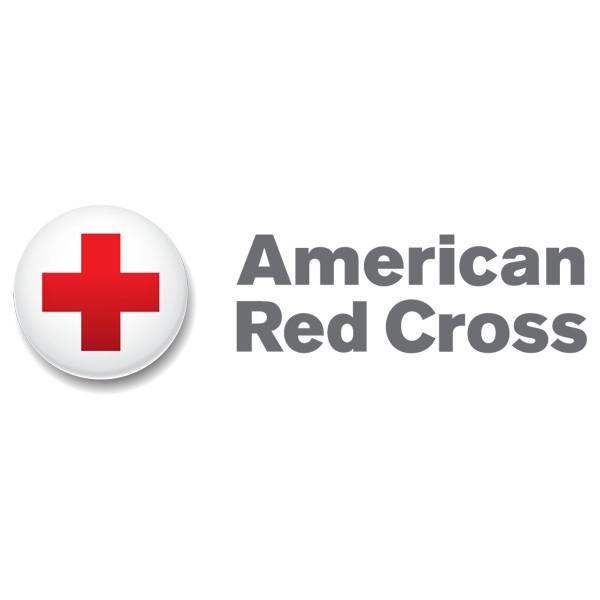 We are proud to support Operation Phantom Support. Their missions is to is to assist Soldiers, Veterans, 1st Responders and their families that are in need. We do this by providing programs and services to help them through tough times.This gets done by our soldiers, veterans and 1st responders each donating $20 a month by joining our Phantom Corps Donors. We always need more support so please consider a donation to help those who are already trying to help themselves by donating to us today! Visit Operation Phantom Support today!
Ready America has long supported our men and women of our armed services and first responders. That's why it is an honor and privilege to serve along side Tunnel to Towers. Tunnel to Towers helps to build mortgage-free smart homes for our most catastrophically injured veterans and first responders. Each home is designed to address the unique needs of each individual. Smart homes host a myriad of features such as automated doors and lighting, wider halls and doorways, special showers to accommodate wheelchairs, automatic door openers, cabinets, counters, and stove tops that can be raised and lowered, back-up generators, and central heating and air conditioning systems that can be controlled by tablets. These homes help our most severely injured veterans and first responders to reclaim their day-to-day independence. Visit the Tunnel to Towers Foundation today!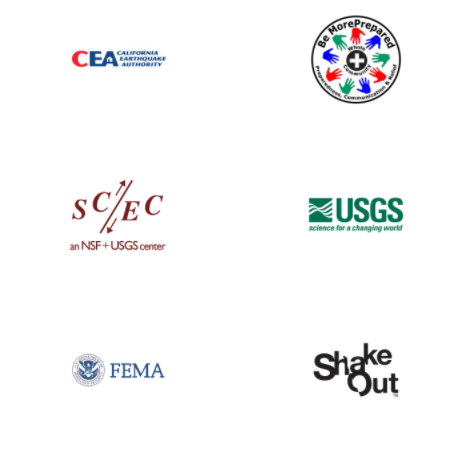 Working as a Team with SCEC, USGS, CEA, FEMA and more!
In 2001, Ready America partnered with FEMA on the "Project Impact" pilot program in Washington State, and continues to work on disaster mitigation programs in conjunction with the American Red Cross, the California Earthquake Authority (CEA), the Southern California Earthquake Center (SCEC), and the US Geological Survey (USGS).
Ready America is a member of the 1906 Earthquake Alliance, a group formed to commemorate events surrounding the 100th anniversary of the San Francisco earthquake and fire.
In 2005, Ready America began sponsoring production of the earthquake safety booklet "Putting Down Roots in Earthquake Country," a handbook for earthquake safety in California, which is published in partnership with CEA, SCEC and USGS. Ready America is an active member of the Earthquake Country Alliance (ECA), and a contributor and partipant in the Great Shakeout drill since its inception in 2008.
Ready America Donates COVID Command Trailer – Palomar Hospital
Ready America, a Vista-based company that sells disaster preparedness supplies, has donated a mobile command center trailer to Palomar Health. This generous gift is now being used to screen patients for COVID-19 at Palomar Medical Center Poway. The 48-foot trailer is large enough to safely socially distance five patients at a time. Support from partners like Ready America is greatly appreciated and helping keep our facilities – and community – safe.
Medical staff had been directing patients with COVID-like symptoms to tents outside the Emergency Department but with summer temperatures heating up it was becoming increasingly uncomfortable for patients and staff. The trailer is climate-controlled and an overall more protective environment. If a patient with COVID-19 is admitted for treatment, they are placed in a Negative Pressure Room inside the hospital.
Once the pandemic is over, the trailer will be repurposed for other needs (health screenings, clinics, etc.) and can be towed anywhere on its three axles and six wheels. Originally customized for a private citizen, the trailer is outfitted with an open floor plan, kitchen, full-size refrigerator, stove, microwave, sink, toilet and hot shower, making it a perfect option to be used as a command center in the event of a disaster. The trailer is set up with solar, a gas generator and wiring for computers, phones and other technology.